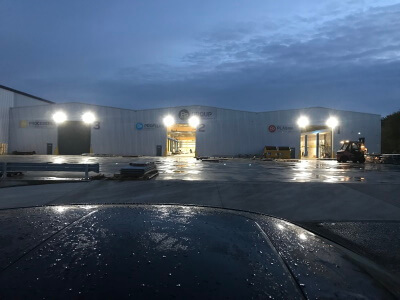 Client:
P.P. Group of Companies Ltd, a leading independent UK precision profiling and processing company designing and fabricating steel, alloys and special metal and products for sectors including:
Oil & Gas
Nuclear
Construction
Aerospace
Rail
Bulk handling
Buildings:
Modern commercial buildings opened in 2018 comprising:
Corporate offices,
Manufacturing & Fabrication,
Storage & Warehousing,
External Distribution & Parking for delivery/heavy vehicles
Building: 110,000 square feet (10,220 sq. m)
Site: 6.5acre (2.64 hectare)
Needs:
Replace of 'as-built' lighting with improved quality internal and external LED lighting and emergency lighting systems with auto control to various areas to facilitate precision design, manufacturing and distribution processes
Improved external LED lighting and emergency lighting systems in are involving heavy goods and vehicle movements
Improved control and auto on/off in certain areas when not in use e.g. warehouse aisles, for added power savings
Lighting to provide significant power and carbon savings compared with 'as-built' installation
Client's business imperative:
No interference with or loss of production or down-time.

.
Objectives achieved:
Achieved by means of a fully and carefully formulated project managed installation program.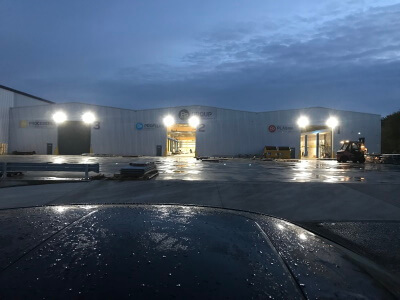 Project work involved installation of LED power saving lighting internally and externally to a warehouse storage and distribution facility. Work was undertaken at night and in such a manner as to minimise disruption to commercial activity.
I would just like to say how impressed with whole process we are.
From first contact with Powersave the company has been professional, efficient and provided everything that has been needed for the installation to run smoothly without any interference to production.
Prior to any work being carried out, all risk assessments and method statements were provided as well as all the engineers professional competences, this makes my job easier. The engineers worked through the day where it would not interfere with our processes and engineers worked through the night as requested in the main work bays, we have had no down time due to the installation. The main installation was completed in 5 days/nights which was very impressive.
On the one occasion where we thought that the factory lighting needed extra lights, you were there the same day to cost up extra units, the units were on site the next day and fitted.
We would recommend Powersave Installations and would definitely use them for any future projects.
Company Details:
Powersave Installations Ltd.
Company No.: 08688807
Registered Office:
200 Drake Street
Rochdale, Greater Manchester
OL16 1PJ